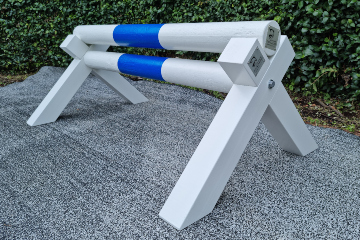 Skinny Jump set: Blue stripe
$

245.00
The Skinny Jump set includes a stackable cavalletti and a skinny matching pole.
The Skinny Jump is 375mm high, add the extra pole and its 500mm tall and 1280mm long. This skinny version of our Jump cavalletti. Stackable with another Skinny Jump or a Skinny Lizzie. It's ideal for training for jumping cross country skinny's or for small arenas.
The pole is made from H4 treated pine with a diameter of about 100mm. The stand are made of H5 treated pine. Two galvanized bolts hold the pole in place on the stand. Three coats of Resene's premium paints are used for that Cowan Cavalletti smooth finish. Resene colours used: Merino and Wet n Wild.