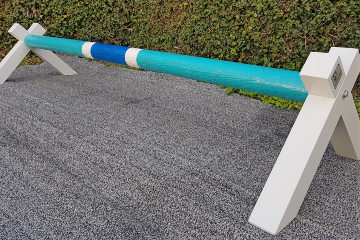 Cowan Cavalletti Jump- Exotic Euro aqua with fairy dust.
$

225.00
The Jump is 375mm high and 2570mm long. Add a pole to the cradle or stack another Cowan Cavalletti on top for more training options.
The pole is made from H4 treated pine with a diameter of about 100mm. The stand are made of H5 treated pine. Two galvanized bolts hold the pole in place on the stand. Five coats of Resene's premium paints are used for that Cowan Cavalletti smooth finish. The final 2 coats are a UV protector with colour matched glitter added in one of the coats. Resene colours used: Merino, Wet n Wild and Hullabaloo.